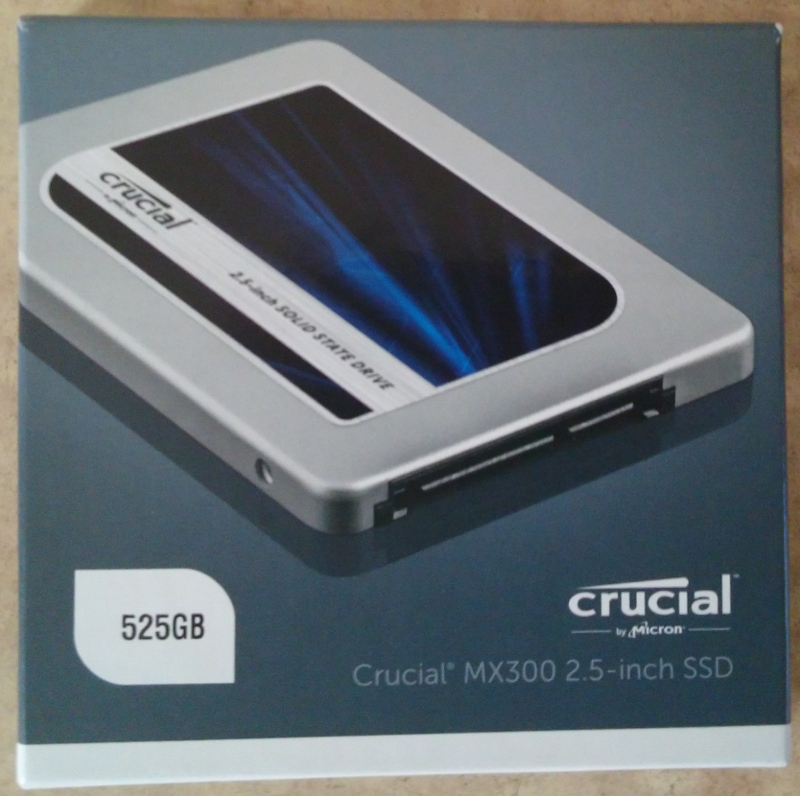 Un communiqué de presse reçu...
Il y a quelques jours, j'ai reçu le communiqué de presse suivant, à propos d'une application que lance Crucial, la marque qui fabrique, entre autre des SSD.
En quelques mots, l'application lancée par Crucial permet de faciliter l'installation d'un SSD et supprime tous les termes techniques pouvant effrayer les non-initiés. Désormais, il est possible d'installer un nouveau SSD en moins de 15 minutes, en suivant simplement les instructions de l'application web.
Charger ses fichiers et ses applications sur un SSD se fait d'une traite, aussi simplement qu'allumer ou éteindre une lumière. Pour toutes les tâches quotidiennes, les SSD sont en moyenne six fois plus rapides que les disques durs classiques. La nouvelle application rend tous ces avantages plus accessibles pour les personnes craignant de démonter eux-mêmes leur ordinateur. Fini le jargon, place à un processus d'installation très simple illustré par des textes et des vidéos.
N'hésitez pas à faire vous-même le test ! Il suffit de nous contacter en nous donnant les caractéristiques de votre machine, et nous vous ferons parvenir un SSD pour l'installer ensuite grâce à l'application web compatible mobile de Crucial http://www.crucial.fr/fra/fr/installation-ssd
Un billet sponsorisé ?
Avec une proposition de tester le dernier modèle de SSD de la marque. J'ai donc répondu de façon favorable à cette demande de billet sponsorisé et quelques jours plus tard, je recevais un SSD "Crucial 525GB MX300". En échange du présent billet que je me suis engagé à rédiger avec un lien vers le site ee Crucial, j'ai donc reçu et pu garder un SSD. Si je précise tout cela, c'est par soucis de transparence.
N'ayant que des machines sous Linux (Ubuntu pour la plupart) et cela a son importance, mon test devrait quelque peu changer des éventuels autres billets de blogueurs qui auraient reçu ce même cadeau. ;)
Avant d'avoir une réponse favorable, j'ai été invité à tester via un site en ligne qui propose l'"Outil Scanner Système Crucial". Un programme pour Windows... Que je n'ai pas pu lancer. Mais comme je suis geek, une recherche rapide m'a confirmé que ce modèle était un modèle standard, du SATA, au format 2"5 pouces.
J'ai également regardé le site pour lequel je dois faire un lien. Je trouve l'idée originale, mais pour quelqu'un comme moi qui sait ouvrir un PC portable et y mettre un SSD, ce type de tutoriel n'est pas très utile. Surtout toute la partie qui invite à installer un logiciel pour cloner ses données... Un logiciel non libre, soumis à licence (vu qu'il faut rentrer un code fourni avec le SSD lors de l'achat). Bref, je ne suis pas la cible de ce type d'outils.
Par contre, pour le SSD en tant que matériel, c'est autre chose.
Mon test
Dans le PC portable que j'ai, un HP probook G3, il y a un emplacement pour un SSD M-SATA. Et il y avait un emplacement SATA 2"5 pouces de libre. Ca tombe bien. Au démarrage du PC, SSD reconnu sans soucis. Non partitionné, non formaté, j'ai utilisé GParted pour créer une seule et unique partition GPT et la formater en ext4. Le SSD offert se voulant comme étant un SSD haute performance, j'ai lancé différentes séries des mêmes tests sur un SSD puis l'autre et voici les résultats les plus probants. Il est ainsi possible de comparer, via les outils fournis en natifs par Ubuntu dans l'utilitaire de disque, les performances entre le SSD fournit par défaut avec la machine et celui que Crucial m'a offert.
Sandisk M-Sata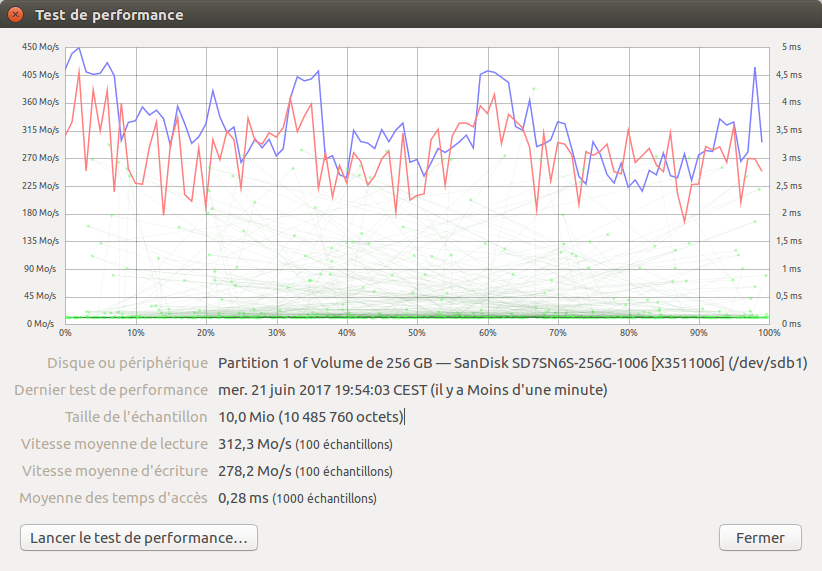 Crucial MX300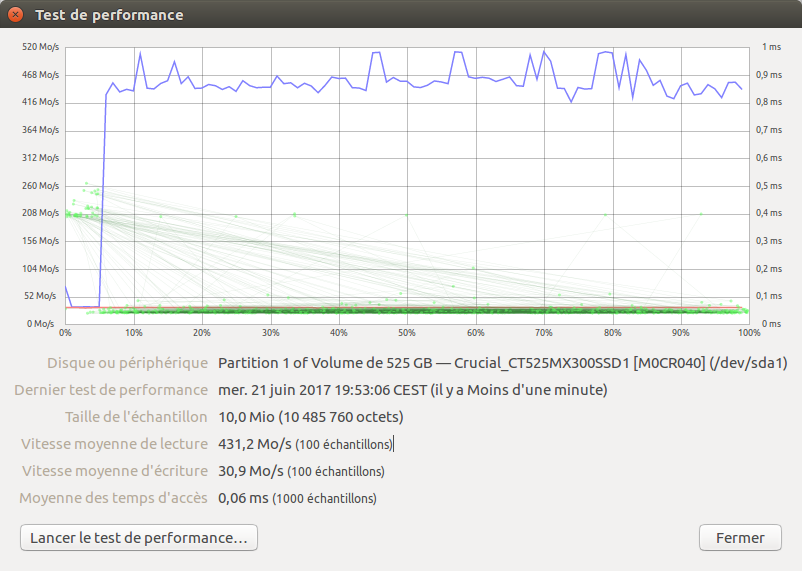 Sandisk M-Sata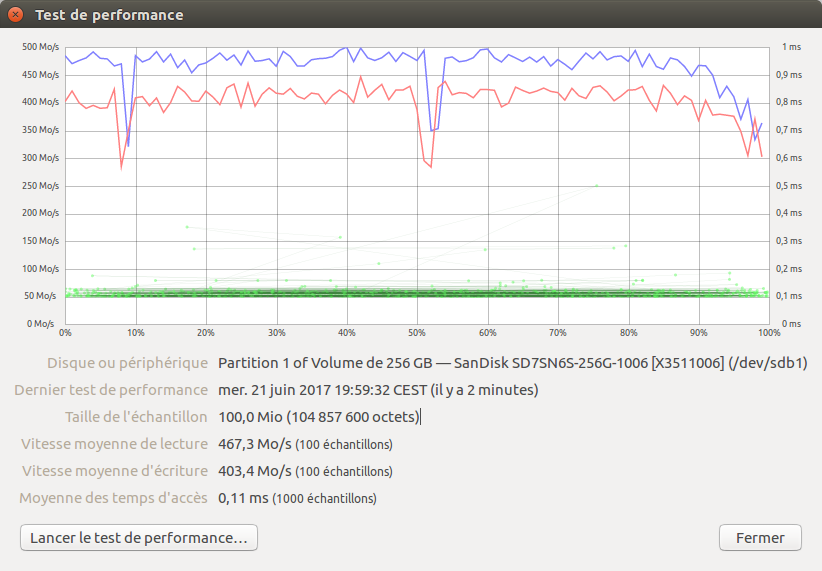 Crucial MX300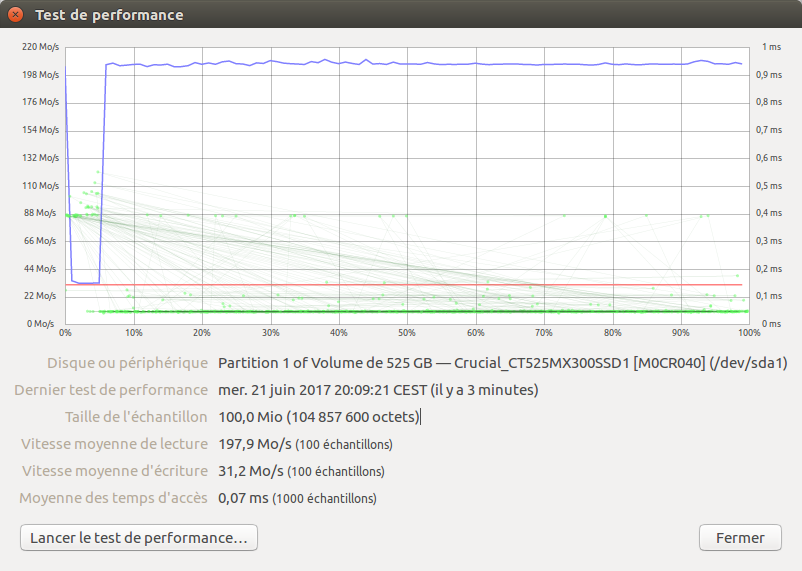 Attention vitesse sur courant et sur batterie
Le SSD Crucial MX300 n'a pas les mêmes performances que l'on soit sur batterie ou sur courant, comme indiqué dans le forum (en anglais) ici : Askubuntu.com - SSD Fast is now extremely slow
Cela est lié à la gestion de la consommation électrique.
It appears that Linux or laptops in general (verified on both Lenovo and Dells) default to APM level 80h (128) when booted on battery and FEh (254) when booted on AC power.
For most SSDs, you won't notice much difference. Lite-on SSDs seem to not support power management at all and always run at max speed. Intel SSDs seem to run at about 75% full speed at APM level 128, and 100% speed at APM level 254/255. Crucial SSDs however seem to run at about 6% full speed at APM level 128 (booted on battery) when compared to APM level 254 (booted on AC power).
Sur batterie
genma@laptop:~$ sudo hdparm -t /dev/sda1
/dev/sda1:
Timing buffered disk reads: 94 MB in 3.03 seconds = 30.98 MB/sec
Sur secteur
genma@laptop:~$ sudo hdparm -t /dev/sda1
/dev/sda1:
Timing buffered disk reads: 1452 MB in 3.00 seconds = 483.74 MB/sec
Dans le cas du SSD Crucial MX300, on passe de 30 Mb/Sec sur batterie à 480 Mb/Sec sur secteur soit un facteur 12. A prendre en compte pour les tests et usages au quotidien...
A l'usage au quotidien
La machine n'a pas perdu en temps de disponibilité sur batterie, du moins ce n'est pas suffisamment sensible pour que je vois la différence. Les SSD ne sont pas connus pour être des disques ayant une forme consommation de courant, c'est quelque peu normal.
L'espace de stockage, un peu de plus de 500 go, est appréciable et me permet de pouvoir créer et conserver quelques machines virtuelles dont j'ai besoin pour différentes choses. Il faudra que je vois sur plusieurs jours et semaines si je vois une différence sensible sur des utilisations d'un SSD ou de l'autre.
Pour finir, voici quelques photos de l'unboxing du SSD :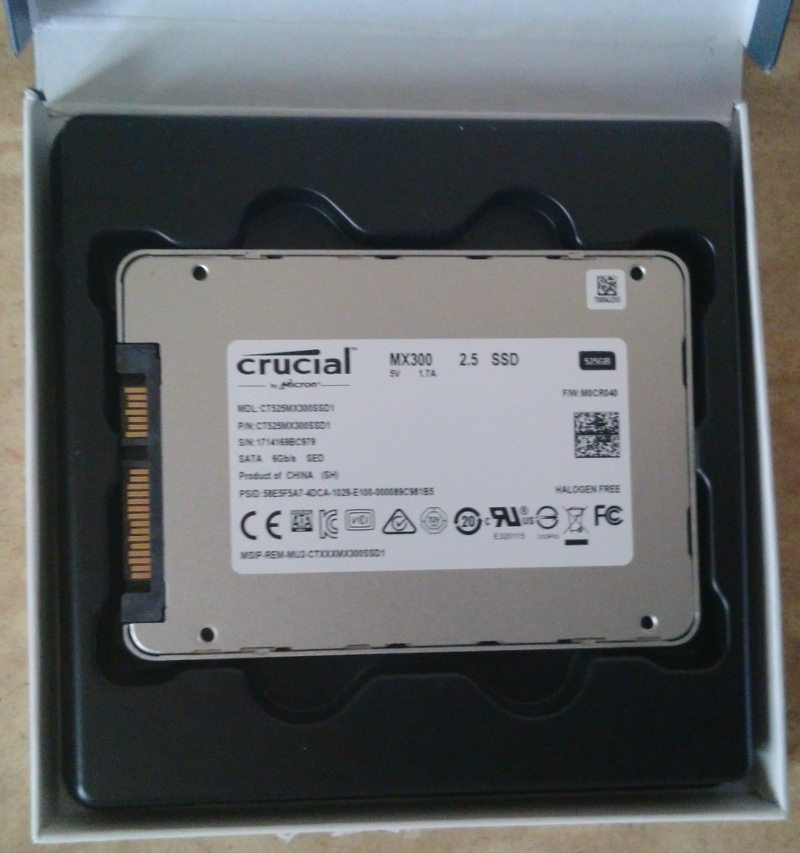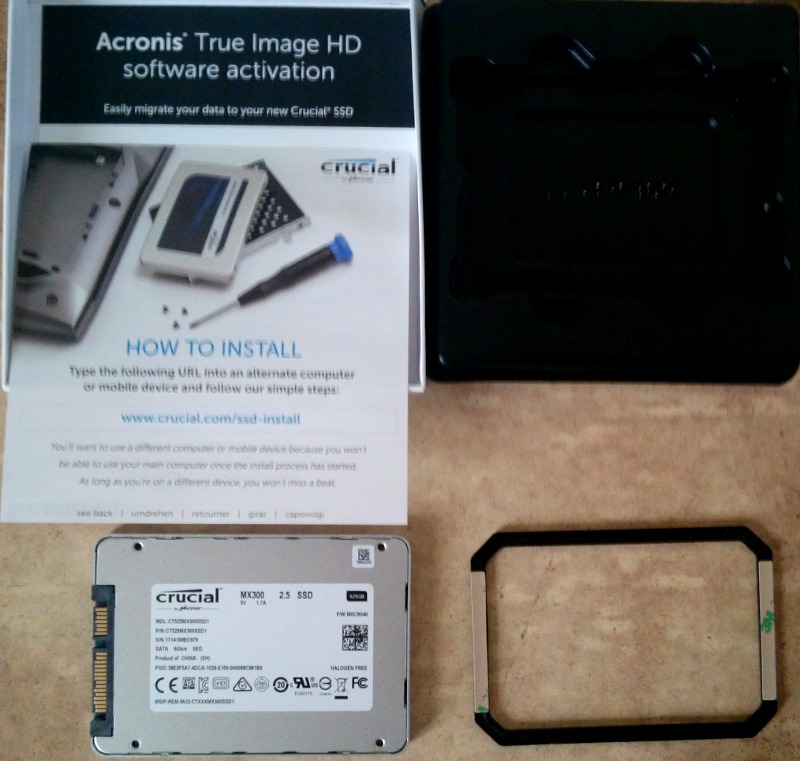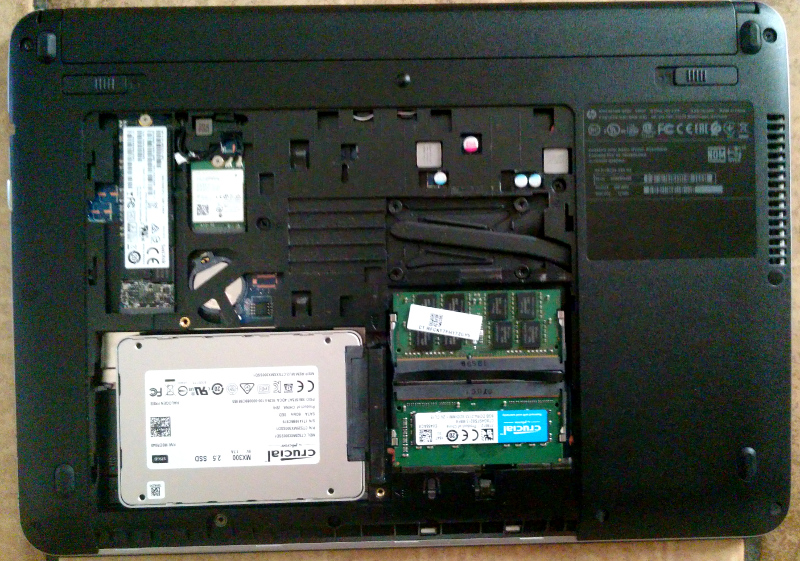 D'autres informations ?
Si vous souhaitez avoir d'autres avis sur ce type de SSD,
Cédric du podcast vidéo GeekInc avait fait une vidéo de 2"30 mise en ligne sur le site de l'ami Korben